Employment Opportunities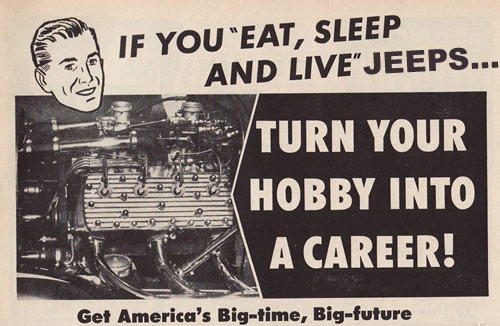 FINALLY, YOUR DREAM JOB!
If you are an experienced and reliable auto mechanic and you are looking for a new and different career with an established and internationally respected company, join the Willys America Team.
Willys America is accepting applications for the position of Restoration Technician.
Interested applicants should possess knowledge and experience in the repair of 1940-1980's Jeep powertrain components, fuel and electrical systems, brake and ignition systems.
Other desired qualities include:
Ability to weld, braze, cut, and drill steel and other metal types.
Proficient in the use of basic hand tools, measuring devices, fabrication equipment, electrical testing meters, and machine tools.
Ability to function efficiently and effectively with minimal supervision.
Ability to keep shop area clean and neat and maintain company tools and equipment at all times.
Ability to work alone and with other team members, demonstrate a positive attitude and respect, is self motivated, self directed, and have a willingness to work and learn from others, and communicates clearly and objectively, shows pride and quality in workmanship.
Ability to follow verbal and written instructions, and document work performed on repair order.
Follow safe work practices to avoid accidents/incidents.
Exhibit good leadership qualities, effective conflict management, communicates clearly and objectively.
Valid drivers license and insurance, owns reliable transportation, and is not considered a high risk driver.
Upholds company values and confidentiality, follows proper procedures and policies.
Performs other duties as assigned.
Willys America is a drug free work environment. Applicants must pass a pre employment background check and drug screening.
Willys America invites all interested applicants regardless of age, sex, race, religion, marital status, political affiliation.
Willys America is located in a small village in northwestern Sonoma County, California in the beautiful Russian River resort and winery region surrounded by redwood studded hillsides and vineyards, just a few short miles from the Pacific Ocean.
Willys America owners and employees have strong ties to the community and participate in local events.
Willys America offers competitive compensation in the automotive restoration field, flexible work policies, and a collaborative work environment that supports and inspires personal achievement and development within the workplace and beyond.
Come join our team!
Contact Paul @ 707-632-5258.